Welcome!
The New Beginning Church of the Nazarene
A place to begin, A

place to belong
"To be transformed by Jesus
and
to lead our community to Him".
to celebrate the birth of Jesus.
CrossTraining Classes —

Sunday Mornings at 9:45 a.m.

Adults meet in classroom #7 (in the children's area). Young adults meet in classroom #1 (off the Sanctuary).
Sunday Worship —

Sunday Mornings at 10:30 a.m.

Join us in worship and hearing what God has for you!
P.R.A.Y. —

Praise, Repent, Ask, Yield

Tuesdays at 10 a.m.

You are invited to come and P.R.A.Y. with us in classroom #3. If you have a specific prayer request, see Bonnie Johnson.
The Storehouse —

Thank you for helping to keep The Storehouse stocked. We will continue to post restocking needs on the bulletin board in the foyer for those wishing to participate in this ongoing ministry. Monetary donations are always welcomed.

Thank you for being Jesus to our community!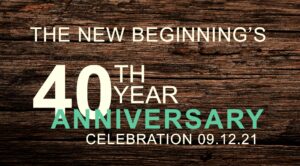 As a church body we meet together every Sunday at 10:30 am to Praise, Worship, Pray and Listen to a Doctrinal Sound Message Preached from the Word of God which ultimately renews our Spirit and Strength for the Mission Field of Life.
P . R . A . Y
Praise . Repent . Ask . Yield
Tuesdays you are invited to P.R.A.Y. with us at 10 am in class room # 3. If you have a prayer request we would love the opportunity to pray for you.
Missions
We strive to mirror the character and purpose of God in proclaiming His gospel to all the peoples of the world-through prayer, education, involvement, and giving.
Welcome
Pastor

Mike & Laura Kimball
Lead

ership