Welcome!
The New Beginning Church of the Nazarene
A place to begin, A

place to belong
"To be transformed by Jesus
and
to lead our community to Him".
Praying Our Way To Pentecost – A Call To Speak —

The practice of prayer sharpens our perception, and we begin to see what God is doing in our lives and the world around us.When we truly hear from God, we are invited to share His heart with the leaders of our denomination through Call To Speak. Go to

https://surveys.nazarene.org/s3/HalfMillionMobilizationSurvey
Women's Fellowship & Planning Meeting —

Ladies, please mark your calendars for Sunday, July 3rd, immediately after church.

(12:00-1:00pm?). We are going to get together for fellowship and plan some events for Women's Ministries. We will provide a light lunch here at the church.

Please RSVP to Katie Terry if you will be able to make the lunch.
Founder's Club Calling! —

When you become a Founder's Club Member, you literally help build God's Kingdom by supplying building materials for our District Work & Witness Team to use on their next trip—building a Child Development Center/Nazarene Church in El Carmen, Nicaragua July 3-13, 2022. All you have to do is pay your dues of $5 each May and October–it's that simple! If you are not a member, consider becoming one today! See Katie Terry. Please keep our District W&W Team in your prayers. Areas include travel, the construction project, a feeding campaign, several VBS services, Upward Sports camps, and more.
CrossTraining Classes —

Sunday Mornings at 9:45 a.m.

Adults meet in classroom #7 (in the children's area). Young adults meet in classroom #1 (off the Sanctuary).
P.R.A.Y. —

Praise, Repent, Ask, Yield

Tuesdays at 10 a.m.

You are invited to come and P.R.A.Y. with us in classroom #3. If you have a specific prayer request, see Bonnie Johnson.
The Storehouse —

Thank you for helping to keep The Storehouse stocked. We will continue to post restocking needs on the bulletin board in the foyer for those wishing to participate in this ongoing ministry. Monetary donations are always welcomed.

Thank you for being Jesus to our community!
District NYI Summer Camp —

July 18 – 22, 2022 at Canaan Acres

Student and Adult Leader Applications are available in the church office.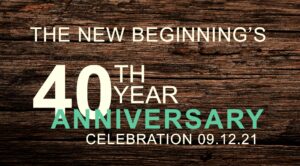 As a church body we meet together every Sunday at 10:30 am to Praise, Worship, Pray and Listen to a Doctrinal Sound Message Preached from the Word of God which ultimately renews our Spirit and Strength for the Mission Field of Life.
P . R . A . Y
Praise . Repent . Ask . Yield
Tuesdays you are invited to P.R.A.Y. with us at 10 am in class room # 3. If you have a prayer request we would love the opportunity to pray for you.
Missions
We strive to mirror the character and purpose of God in proclaiming His gospel to all the peoples of the world-through prayer, education, involvement, and giving.
Please pray with us
as we seek to find
whom God has
chosen to be
our next pastor.
Lead

ership